FIFA 21 Update for PS5 is Worth playing?
We had low expectations when EA Sports revealed that FIFA 21 will be having a PS5 update — which is free if you already own the PS4 edition. On the PS4, we enjoyed FIFA 21, but the football simulator was beginning to show its age. It was tough compared to other heavy-hitting sports games like MLB and NBA 2K21. We discussed how FIFA needs to change as we move through a new console generation in our FIFA 21 PS4 analysis. Again, we didn't have high hopes for the PS5 update, but here we are. FIFA 21 on PS5 is a big move forward — especially in terms of visuals — and harkens back to the heady days when FIFA 14 first arrived on PS4 in 2013, dazzling us with its next-gen beauty.
Let's begin with the most visible change: the graphics. FIFA 21 on PS5 is without a doubt the most realistic-looking soccer game ever made. Sure, you can still spot the oddly wooden player animations now and then, but at first glance, it appears to be the real deal. Some players' attention to detail is borderline obsessive. We spent a few minutes orbiting the camera around Roberto Firmino's ultrarealistic head, concluding that the eccentric Brazilian striker seems more believable in FIFA 21 than he does in real life. Okay, so maybe that's a stretch, but you get the picture. But you know what impressed us even more than Neymar's tiny tattoos on his neck? It's the hair. EA Sports has incorporated some mysterious hair technology that allows long locks to flow in an eerily realistic manner.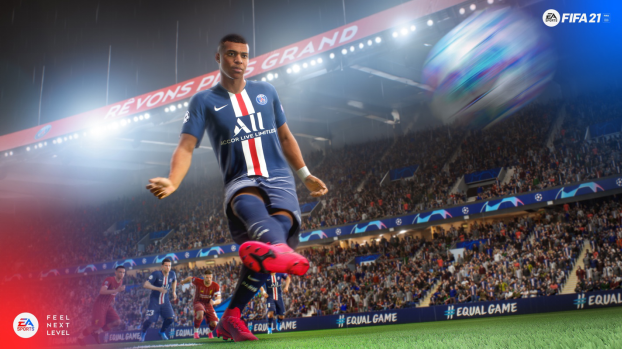 Individual strands of hair pass almost exactly as they should, whether it's Edinson Cavani jumping into the air for a soaring header or Alisson Becker diving to the far post to save an otherwise certain shot. Is it fair to say that FIFA 21 has the best hair of any video game we've ever seen? We can't tell for sure because the animation is so fantastic that it's a little distracting, but it's definitely in the running. Some matches, as has always been the case with FIFA — and sports games in general — aren't so fortunate.
FIFA 21 also suffers from the fact that not every footballer has had their face scanned into the game, despite its next-gen flourishes. Players with generic faces now look much worse than they did before, thanks to the fact that top talent now looks so genuine. The chasm has widened to the point that the quality disparity is more jarring than ever. We don't know what the answer is. It would be cool if EA Sports could scan every player in FIFA, but that would be a tall order even for one of the world's most successful video game companies. A more realistic solution would be to update the in-game player development tools, which are already noticeably obsolete, and eventually solve the dead-eyed-golem-made-of-ham problem that so many players are experiencing right now. But, let's be honest, the fact that Curtis Jones, a rising Liverpool star, has a nightmare face in FIFA 21, has little effect on the game. It's still a shame, but you're looking at players from afar most of the time anyway, and FIFA 21 looks immaculate from that point.

As it swings up and down the mound, the new default camera angle, which is supposed to mimic what we see on TV, helps sell the size of each arena. Meanwhile, an improved lighting engine has a major impact on the stadiums themselves. The added atmosphere this adds to the game isn't to be overlooked, and the more accurate crowd models have been long overdue. Nonetheless, the crowds do not seem to be in good shape. The new crowd animations and additional details help bring stadiums to life when the camera is pulled back and you're watching the match. However, up close, these supporters have a creepy mannequin-like feel about them. Another visual element that seems to have been overlooked by the rest of the next-gen update.
So, how's it going in terms of gameplay? In-game animations on next-gen consoles would be enhanced, allowing for more fluid control, according to EA Sports. Although we don't think it's worth mentioning, we've found a few minor differences in the way players travel. Even if it's just Thiago eyeing up his next throw, everything is just a little bit easier. Messi keeps an eye on the ball as he slots it between someone's thighs. Small steps forward, but they add up.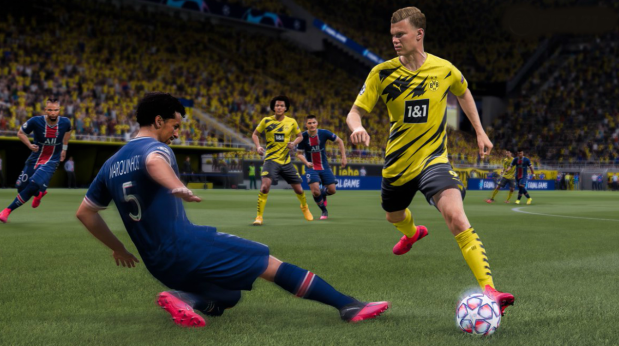 FIFA 21 has a slew of PS5-specific enhancements. Pre-match skill games are no longer allowed by default due to the lack of load times. All you have to do is press 'play match,' and you're in. Similarly, when you open a menu, there are no irritating stutters or slight input lag. It is so... instantaneous. The DualSense controller is also used in FIFA 21. The haptic feedback isn't quite as good as it is in Astro's Playroom, but it's still a good effort. Small vibrations accompany each action a player takes, becoming more violent as they break into a sprint. When you hit the ball, the DualSense emits an audible 'thud' when you let loose a thunderbolt from 30 yards. It's pretty cool and contributes to the package's immersion. There are also adaptive stimuli to consider. When a player is tired, for example, pushing down L2 becomes more difficult, giving the impression that you're trying to work harder to get across the pitch. Another cool feature, but we're sure more serious gamers would want to disable it because it makes farming FIFA 21 Coins much more difficult.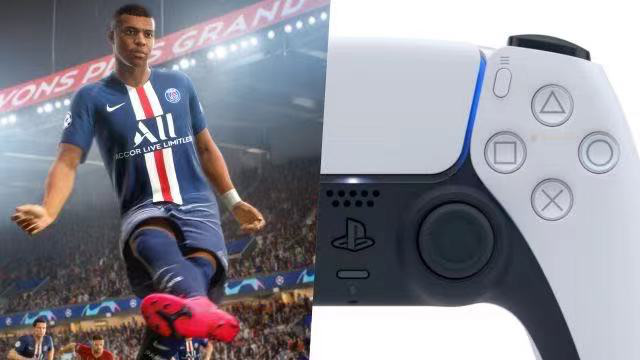 In our FIFA 21 PS4 review, we spoke about how FIFA needs to evolve as we transition into a new console age. We enjoyed FIFA 21 on the PS4, but the football simulator was starting to display its age. FIFA 21 on PS5 is without a doubt the most lifelike soccer game ever made. It is fair to say that FIFA 21 has the best hair of any FIFA game. FIFA 21 includes a number of PS5-specific improvements. Despite its next-gen flourishes, FIFA 21 still suffers from the fact that not every footballer has had their face scanned into the game.
All in all, though FIFA 21 Update for PS5 is not so satisfying, you can still play FIFA 21. It has true gameplay and creativity. The game lets you play with creativity as the through passes now find their intentions thanks to a new level of awareness for your teammates as also better aka realistic, off-ball humanization for the defenders as they no longer catch the ball like with magnets on their toes. The games feel organic and free. You should try it and you will find FIFA is back on track!
And the most important thing, you can have fun in FIFA 21 again.
Check more FIFA 21 News here:
FIFA 21: 5 Tips to Win more FUT Champions
FIFA 21: Effective Ways to Score against Any Defense
FIFA 21 Ultimate Team: Pack Opening Now