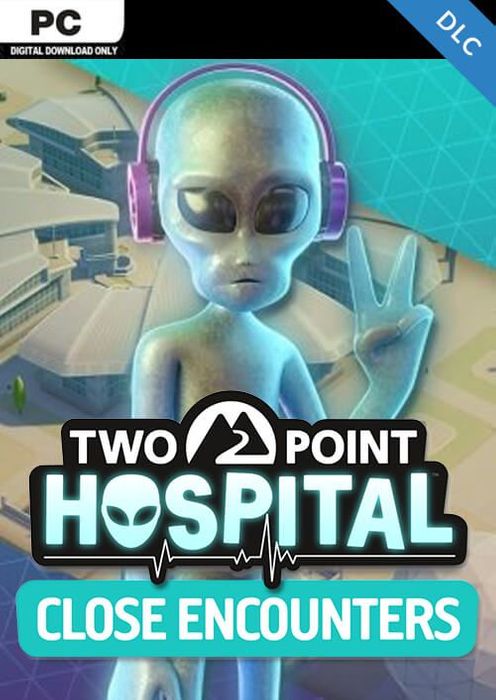 Two Point Hospital - Close Encounters PC (ROW)
Platform:

Steam

Region:

Worldwide
Notice: proceeding to PayPal, you understand that your Gift Card purchase will be sent to the email associated with your PayPal Account.
Description
Get your instant download with SSEGold.com
This product includes Two Point Hospital - Close Encounters PC (ROW). Base game required.
The top 3 reasons to play Two Point Hospital - Close Encounters PC (ROW)
Expand your Two Point Hospital experience with the Close Encounters DLC.
Tend to the unusual illnesses cropping up in the town of Goldpan; rumor has it they're not of this world...
New hospitals, new illnesses, and new items are all contained in this DLC pack.
About Two Point Hospital - Close Encounters PC (ROW)
Down in the town of Goldpan, rumours persist of an out of this world encounter. A fireball, witnessed streaking above the sandy climes of Two Point County's Eastern reaches, is chief suspect after a range of unusual illnesses have caused strife, commotion and general unrest amongst the inhabitants of this oft-forgotten town.
As an all-round medical supremo with a knack for tackling the unreal, your administration has operational access to some key locations in the area… including some areas the public really don't need to know about. The Two Point Squabbler, the County's finest journalistic institution, wants to know what's going on… and you're their ticket in.
3 mysterious new locations
3 new, fully animated cure machines
11 new visual illnesses
34 new illnesses in total
New gameplay
New music, DJ and tannoy lines
Read more
What are the system requirements?
Windows
OS

Windows 10 64-bit

Processor

Intel Core i5 6600 or AMD Ryzen 1600x

Memory

8 GB RAM

Graphics

NVIDIA Geforce GTX 1060, 3 GB (Legacy: NVIDIA Geforce GTX 780, 4GB) or AMD RX 580, 4 GB (Legacy: AMD R9 290X, 4GB)

Storage

6 GB available space
Mac OS X
OS

Mac OS 10.13

Processor

i5 3.4 Ghz

Memory

8 GB RAM

Graphics

Radeon Pro 570

Storage

6 GB available space
Mac OS X
OS

Ubuntu 18.04/Steam OS

Processor

Intel Core i5 6600 or AMD Ryzen 1600x

Memory

8 GB RAM

Graphics

NVIDIA Geforce GTX 1060, 3 GB (Legacy: NVIDIA Geforce GTX 780, 4GB) or AMD RX 580, 4 GB (Legacy: AMD R9 290X, 4GB )

Storage

6 GB available space