The Evolution of the Monster Hunter Games
Think about this: you're this skilled hunter/fighter dude that kills gnarly monsters for a living and look completely badass while doing it. This is the exact idea that Capcom thought about when they conceptualized the Monster Hunter series back in the year 2000.

Luckily enough, the name Monster Hunter wasn't even taken yet and hence, Capcom swiftly copyrighted it in the summer of 2001. It wasn't until 2004 when the first game in the Monster Hunter main series was released. And what a ride it has been since then.


And our team at

SSEGold

has thoroughly researched and presented all the highlights you would need to know throughout the evolution of the Monster Hunter games through this article. We've omitted the mini-games and spinoffs, because then the list would never seem to end... trust us.




Monster Hunter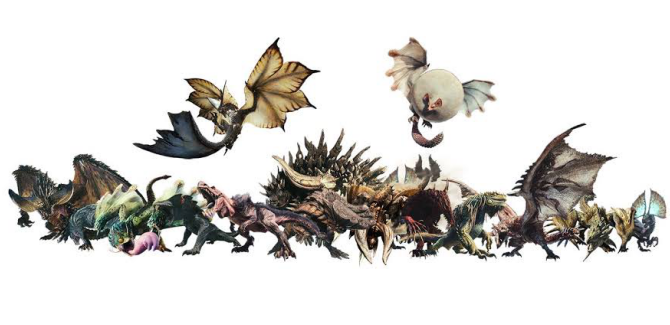 The historic release on March 11, 2004, of the first title in the series named simply Monster Hunter, actually saw average success, selling just around 280,000 copies throughout its lifetime, featuring limited weapons & character customization.
After receiving feedback to make the game tougher, the company decided to create
Monster Hunter G
, an upgraded, more challenging version of the game with new weapon classes, the Armor Skill Point System and the G Rank.
The game did better than the original, but total sales were still under half a million.
Soon after the creation of Monster Hunter G, the PlayStation Portable was gaining popularity, and Capcom wanted to capitalize on that fact, and Monster Hunter Portable was created. It was a challenge for the company, as several in-game mechanics as well as hardware adjustments for the PSP had to be made.
Monster Hunter Dos