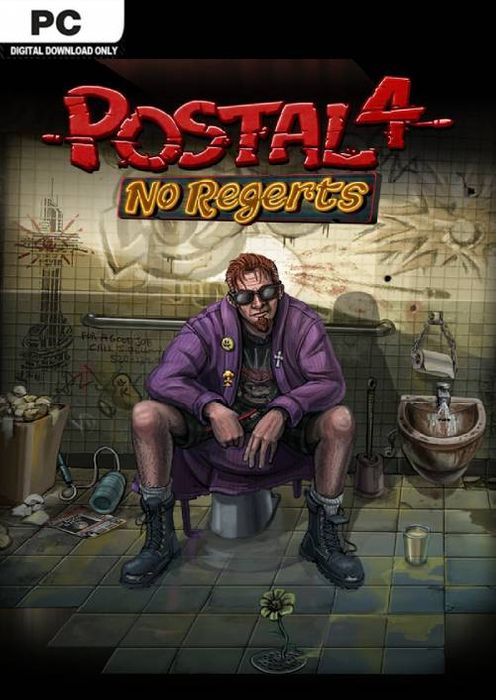 POSTAL 4: No Regerts PC
Platform:

Steam

Region:

Worldwide
Notice: proceeding to PayPal, you understand that your Gift Card purchase will be sent to the email associated with your PayPal Account.
Description
Get your instant download with SSEGold.com
This product includes POSTAL 4: No Regerts PC.
Note: This Early Access game is not complete and may or may not change further. If you are not excited to play this game in its current state, then you should wait to see if the game progresses further in development.
The top 3 reasons to play POSTAL 4: No Regerts PC
Discover Edensin and unearth the dark secrets of this gambling town!
New ammo types and other tools to greater support peaceful (or non-lethal, at least) confrontations, but violence is still always an option too!
Over-the-top arsenal: Series classics return such as the iconic Shovel, Gas Can, and the famous boomerang Machete!
About GAME NAME
The POSTAL Dude is back!
Several years have passed since the events that devastated the once proud town remembered as Paradise.
The only two to walk away from the cataclysm unscathed, the hapless everyman known as the POSTAL Dude and his loyal companion Champ, drive aimlessly through the scorching deserts of Arizona looking for a new place to call home.
After a fortuitous gas station rest stop ends with their car, trailer home, and the rest of their worldly possessions stolen, all the Dude's seemingly got left to his name is his canine cohort and his bathrobe, and neither of them smells all that great.
However, on the horizon, the duo glimpses an unfamiliar and dazzling town that beckons to them. What untold prospects lie within? Fame? Fortune? Maybe a bidet or two? Edensin awaits.
Read more
What are the system requirements?
MINIMUM
OS

Windows 10

Processor

3.0 GHz quad core processor

Memory

8 GB RAM

Graphics

DirectX11 compatible graphics card w/ dedicated 3GB RAM

Storage

8 GB available space
RECOMMENDED
OS

Windows 10

Processor

4.0 GHz quad core processor

Memory

8 GB RAM

Graphics

DirectX11 compatible graphics card w/ dedicated 6GB RAM

Storage

16 GB available space