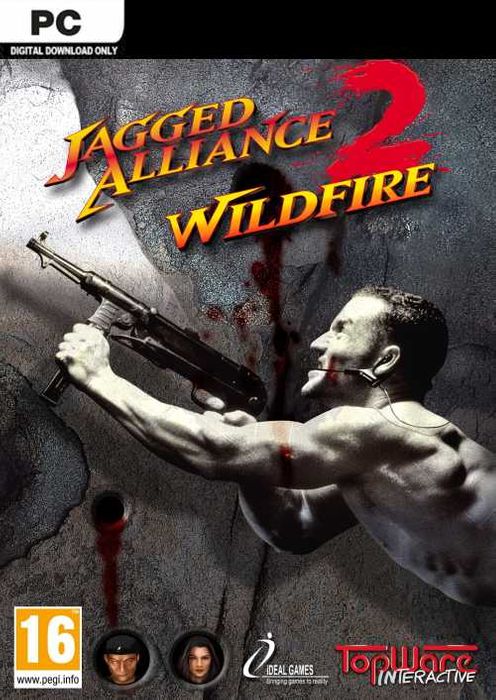 Jagged Alliance 2 - Wildfire PC
Platform:

Steam

Region:

Worldwide
Notice: proceeding to PayPal, you understand that your Gift Card purchase will be sent to the email associated with your PayPal Account.
Description
Get your instant download with SSEGold.com
This product includes Jagged Alliance 2 - Wildfire
The top 3 reasons to play Jagged Alliance 2 - Wildfire
Varying landscapes with changing density of vegetation and new visual conditions in close combat.
All weapons and explosives have been newly balanced with absolutely authentic characteristics - Total realism in the combination of weapons and protection systems.
More than 20 new weapons: USP, Uzi, UMP, MP5A3, Mini-30, HK33, G36, MP7, MSG90, AN-94, RPK, V-94, VAL, VSS and over 150 new objects.
About Jagged Alliance 2 - Wildfire
An exciting mix of strategy and role-playing that puts you in charge of a nation's fight for freedom. Your objectives are - to hire a core group of skilled professionals through A.I.M., the Association of International Mercenaries; to win the local population over to your side by displaying courage and loyalty; to train your men around the clock and then send them into dangerous missions and lethal fire fights and to conquer the depths of underground mines, reap their riches and discover their secrets. Each success will bring you closer to total victory, while each failure must be overcome with iron determination. Sometimes a tactical withdrawal can bring you more benefits than a battle for battle's sake. Retreat from one sector only to surprise the enemy by attacking on another flank. At the beginning, some of your enemy's bases may seem to be impregnable - but don't despair - you will have to become stronger step by step and slowly gain ground.
There are new opponents and unfortunately for the player they have become a lot tougher, cleverer and unscrupulous. Differing enemy behavior demands a higher quality of varying tactics and non-linear thinking.
Incomparable depth of game combined with a non-linear gameplay. A unique mixture of real time reconnaissance and turn based combat. You influence the smallest details of every tactical move
Create your own optimal mercenary. Interact with more than 150 characters. Recruit teams of mercenaries all with their own unique personality. The likes and dislikes of mercenaries between themselves influence the motivation and skill of a team. Mercenaries have an excellent memory for the behavior of the gamer: Good and bad experiences have their own effect on the players game. Three difficulty levels.
Read more
What are the system requirements?
WINDOWS
OS

XP / Vista / 7 / 8

Processor

Intel or AMD Singlecore CPU

Memory

1 GB RAM

Graphics

3D Graphics card with DirectX support and 128 MB RAM

Storage

2 GB HD space
Mac OS X
OS

Snow Leopard

Processor

Intel Mac 2.GHz

Memory

512 MB RAM

Graphics

Per Pixel Shader 2.0

Storage

1 GB HD space
SteamOS + Linux
OS

Ubuntu 16.04 LTS or SteamOS

Processor

Intel or AMD Singlecore CPU

Memory

512 MB RAM

Graphics

3D Graphics card with 64 MB RAM

Storage

1 GB HD space