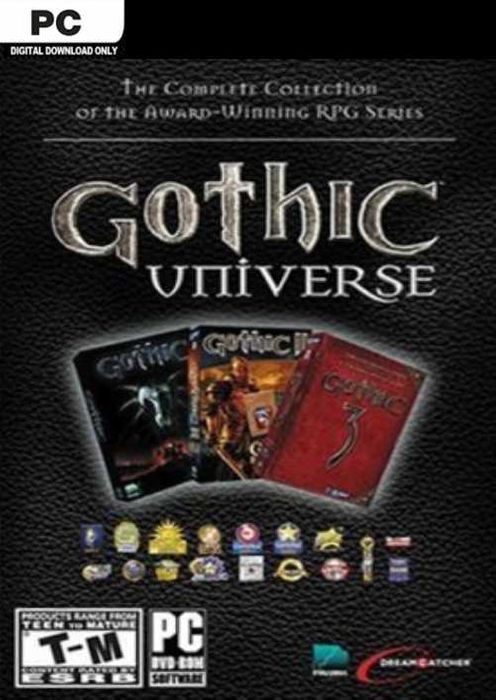 Gothic Universe Edition PC
Platform:

Steam

Region:

Worldwide
Notice: proceeding to PayPal, you understand that your Gift Card purchase will be sent to the email associated with your PayPal Account.
Description
Get your instant download with SSEGold.com
Gothic Universe Edition PC includes:
Gothic 1
Gothic II: Gold Edition
Gothic 3
The top 3 reasons to play Gothic Universe Edition PC
One of the biggest RPGs with over 100 hours of gameplay.
A large variety of weapons and spells for your character.
Immerse yourself in the most colorful and authentic fantasy world of all time – Myrtana awaits you!
About Gothic Universe Edition PC
Gothic 1 - War has been waged across the kingdom of Myrtana. Orcish hordes invaded human territory and the king of the land needed a lot of ore to forge enough weapons, should his army stand against this threat.
Whoever breaks the law in these darkest of times is sentenced to serve in the giant penal colony of Khorinis, mining the so much needed ore.
Gothic II: Gold Edition brings together the excitement of Gothic II and the add-on Night of the Raven to your fingertips!
You have torn down the magical barrier and released the prisoners of the Mine Valley. Now the former criminals of the forests and mountains are causing trouble around the capital of Khorinis.
The town militia is powerless due to their low amount of force–outside of the town, everyone is helpless against the attacks of the bandits.
Gothic 3 - A nameless hero becomes a legend! Myrtana, a world in upheaval: overrun by orcs from the dark lands in the north, King Rhobar is defending Vengard, the former stronghold of the humans, with his last troop of followers.
Chaos reigns without: rebels are offering resistance, and the Hashishin of the south are openly collaborating with the orcs.
Read more
What are the system requirements?
Windows
OS

Windows XP/2000/ME/98/Vista

Processor

Intel Pentium III 700 MHz

Memory

256 MB Ram or higher

Graphics

3D graphics card with 32 MB Ram

Storage

4 GB