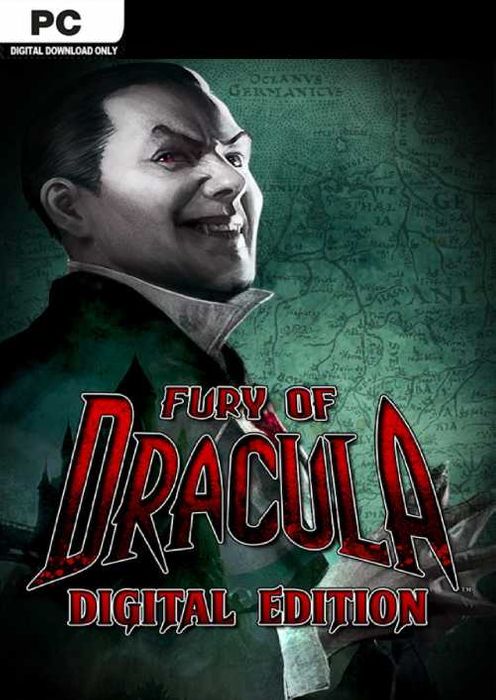 Fury of Dracula: Digital Edition PC (EN)
Platform:

Steam

Region:

Worldwide
Notice: proceeding to PayPal, you understand that your Gift Card purchase will be sent to the email associated with your PayPal Account.
Description
Get your instant download with SSEGold.com
This product includes Fury of Dracula: Digital Edition.
The top 3 reasons to play Fury of Dracula: Digital Edition
Detailed Tutorial Designed with care, our in-depth tutorials will walk you through everything you need to know to start your hunt.
Multiple Game Modes Choose from battling against the AI, teaming up with friends locally or taking the hunt global with 1v1 online battles.
Haunting Animations The artwork from the original board game bursts to life with beautiful and bloody animations for every single piece.
About Fury of Dracula: Digital Edition
Europe stands on the edge of destruction. The nights grow colder and the days grow darker, as Dracula builds his bloodthirsty army of mindless thralls. Only the hunters Dr. Abraham Van Helsing, Dr. John Seward, Mina Harker and Lord Arthur Godalming stand against the advancing evil. But as the sun sets on Europe, can they survive long enough to stop the encroaching darkness?
Fury of Dracula: Digital Edition is the digital adaptation of the much-loved board game, first published in 1987 by Games Workshop. Based on the 4th Edition of the game, this faithful adaptation allows you to re-experience this iconic game of gothic horror and deduction in a whole new way. If you've never played the original board game, you can see exactly why Fury of Dracula is considered a classic among the board game community!
Will you take on the role of Dracula as he increases his influence over Europe? Or will you and up to three friends take on the role of Dr. Abraham Van Helsing, Dr. John Seward, Lord Arthur Godalming, and Mina Harker as they attempt to stop him before his bloody plans bear fruit?
Fury of Dracula is a game that emphasizes hidden movement and teamwork, with the hunters having to coordinate their movements to close the net on Dracula. Dracula has a host of tricks and traps up his sleeves, to misdirect and hide from the hunters - but the hunters are armed with plenty of tools too! Each hunter provides a new way to play, with unique stats and abilities to aid them in the fight against this ancient evil. Dracula himself has a range of unholy powers to call upon, allowing him to transform and enthral humans, along with transforming into a bat or mist in order to escape the hunters. Once the hunters and Dracula finally clash, bloody and gruesome combat ensues. Nobody is safe as Dracula lashes out at his pursuers, and the hunters battle against the inhuman and immortal Count. Featuring a card-based combat system that rewards bluffing and tactical choices, no two clashes are the same.
A Chilling Soundtrack Composed and created from the ground up for Fury of Dracula: Digital Edition, this soundtrack is sure to send chills down your spine - also available as a standalone purchase!
Read more
What are the system requirements?
MINIMUM
OS

Windows 7 64-bit

Processor

2.0GHz

Memory

1 GB RAM

Graphics

Nvidia 450 GTS / Radeon HD 5750 or better

Storage

2 GB available space
RECOMMENDED
OS

Windows 10

Processor

3.0GHz

Memory

2 GB RAM

Graphics

Nvidia 450 GTS / Radeon HD 5750 or better

Storage

2 GB available space