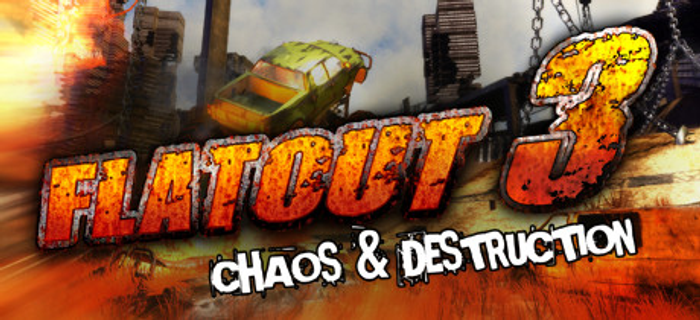 Flatout 3 Chaos & Destruction PC
Platform:

Steam

Region:

Worldwide
Notice: proceeding to PayPal, you understand that your Gift Card purchase will be sent to the email associated with your PayPal Account.
Description
FlatOut 3: Chaos & Destruction brings a new dimension to high-speed destruction races.
Feel the adrenaline rush through your veins as you move at full speed along insane racing circuits and compete against monster trucks, race cars, off-road vehicles and much more.
FlatOut 3: Chaos & Destruction is the extreme demolition races. Real world physics in 9 different game modes and more than 47 different kinds of cars available. Players can choose to run, hit and destroy their opponents in a variety of online and offline options.
She farms farms, fences, and then sows chaos in a suburb of Detroit, travels through the walls of a giant sewer network. Let the chaos begin as you run through more than 60 different circuits, dodging the wrecking balls, double-decker buses and much more.
Create as much destruction as you can in the new Monster Truck mode.
Choose from 20 different controllable characters and select your weapon for the 47 vehicles available! Create as much chaos and destruction as possible! In Stuntman mode, anarchy reigns allowing you to wreak havoc while having fun with ragdolls.

FlatOut 3: Chaos & Destruction offers more vehicles, game modes and different ways to destroy your opponents before crossing the finish line.
Main Features:
Physical engine capable of distributing more than 20,000 completely destructible objects in all circuits

47 vehicles ranging from muscle cars, monster trucks, tanks, bulldozers and many more

9 game modes, in addition to the Challenge mode, which incorporates all game modes in the 62 racing circuits

10 environments with 62 different racing circuits

3 environments for Stunt mode with 12 acrobatics circuits

9 environments for Destruction Derby Battle mode

New, totally new Monster Truck, Nightshift, Off-Road and Speed ​​modes

8 multiplayer modes with support for up to 16 players

Support racing flyers with Force Feedback

Biggest Destruction Derbies for 24 players

Total chaos in Off-Road mode

Complete destruction in the new Monster Truck mode

Face off against the horrible, thunderous, rainy and cloudy climates of Night Shift mode