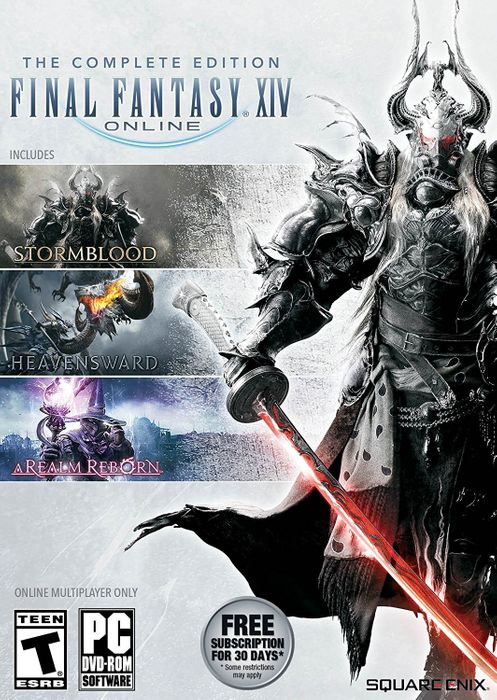 Final Fantasy XIV 14: Online Complete Edition PC
Platform:

Mog Station

Region:

Europe
Notice: proceeding to PayPal, you understand that your Gift Card purchase will be sent to the email associated with your PayPal Account.
Description
Final Fantasy XIV Online Complete Edition includes:
Final Fantasy XIV: A Realm Reborn
Final Fantasy XIV: Heavensward
Final Fantasy XIV: Stormblood
Final Fantasy XIV: A Realm Reborn
Final Fantasy XIV: A Realm Reborn is a massively multiplayer online role-playing game (MMORPG) that invites you to explore the realm of Eorzea with friends from around the world. Form a party and adventure with a multitude of players from across the globe. Forge friendships, mount chocobos, and board airships as you and your companions create your own unique stories in Eorzea. Set out alone or enlist the aid of friends as you undertake epic quests, battle familiar FINAL FANTASY monsters, and acquire unique abilities and equipment. All the classic elements from the series that you have come to know and love are waiting! Embark on the adventure of a lifetime to help reforge the fate of Eorzea on.
Eorzea. A Land embraced by Gods and forged by Heroes. Seeking control of this realm and its abundant crystal resources, the Garlean Empire sends forth a massive host on a campaign to conquer its southern neighbor. Driven by madness, the commander of the invading forces silently plots to tear the moon from the heavens and hurl it down upon the land. The people of the realm soon learn of this foul scheme, and join their hands in prayer in an eleventh-hour attempt to entreat the aid of the gods, only to see their endeavors fail. From within the moon emerges Bahamut, an ancient terror seething with rage fueled by countless generations of imprisonment. Sensing the tug of Fate, a powerful magus channels the last of his strength to send Eorzea's heroes into a temporal rift. There they wait, untouched by the flames of destruction, until they are needed again. Those heroes are you, and the hour of awakening is now. Come and witness a realm reborn.
Final Fantasy XIV: Heavensward
The Warriors of Light journey now to Ishgard a city-state mired in a thousand-year conflict with the dragons of the Dravanian Horde. Can our heroes uncover the ancient truths buried in Ishgard's bloody history and help bring an end to the Dragonsong War? Can the Warriors of Light cast off the shadows that darken the realm?
Heroes of Eorzea, the time has come to rise once again! Set forth with players across the globe on an adventure that will take you to the heavens and beyond. A whole new Final Fantasy XIV awaits!
Final Fantasy XIV: Stormblood
Dive into the next chapter of the critically acclaimed game Final Fantasy XIV Online with its epic next expansion pack - Stormblood!
Explore vast, new lands, including Ala Mhigo, and challenge new Primal threats across Eorzea as you embark on hundreds of new quests as the Warrior of Light!
Level cap increased from 60 -> 70
New jobs, including red mage
New exploration with swimming and diving
New areas to explore
A new primal – Lakshmi
New dungeons
New High-level Raid "The Bend of Time – Omega"
New alliance raid "Return to Ivalice"
The Forbidden Land of Eureka
New gear and crafting recipes
A fourth residential district
Expanded item inventory and changes to the battle system
PLEASE NOTE: This game activates on Square Enix Mog Station Only. Base game should be activated on an EU Mog Station account Only.