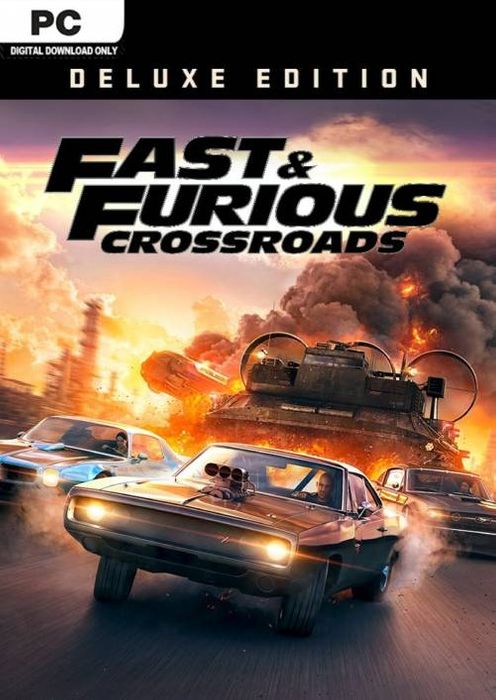 Fast and Furious Crossroads - Deluxe Edition PC
Platform:

Steam

Region:

Worldwide
Notice: proceeding to PayPal, you understand that your Gift Card purchase will be sent to the email associated with your PayPal Account.
Description
Get your instant download with SSEGold.com
Fast and Furious Crossroads - Deluxe Edition includes:
Fast and Furious Crossroads (Base Game)
Season Pass
Bonus pack
The top 3 reasons to play Fast and Furious Crossroads - Deluxe Edition PC
Experience intense cinematic heists and deploy new and familiar gadgets from the movies.
Play online with friends for 3-faction, team-based "cops vs. villains vs. heroes" vehicular action.
Level up to unlock cars, paint, wraps, sprays, plates, gadgets, and more.
About Fast and Furious Crossroads - Deluxe Edition PC
Caught up in a dangerous world of organized crime, three small-time garage owners find themselves at a crossroads. In a quest for vengeance, their destinies collide with a cast of familiar faces who share the same adversary.
Rev-up for an official new chapter in the Fast & Furious saga as Dom, Letty and Roman return to put YOU at the center of the story.
Speed through thrilling blockbuster action across the globe in cars taken from the movies, all curated by Dennis McCarthy, the official Fast & Furious car coordinator.
Gear up for fast, cinematic non-stop action in a new chapter of the Fast & Furious saga as you hunt down an international crime syndicate and pump the brakes on their plans. With adrenaline-fueled stunts and heists, gadgets, exotic locations, cars, and heroes from the films, Fast & Furious Crossroads casts you right at the center of the action.
Get into the action with Fast & Furious heroes Dom, Letty, and Roman, all voiced by the original cast members to authentically recreate their in-game characters.
An international story with gameplay based around pursuits, escapes, takedowns, and heist with vehicles curated alongside Dennis McCarthy, the official Fast & Furious car coordinator.
Form crews with your friends and play online for vehicular mayhem. Track and compare your Fast & Furious Crossroads experience with all your stats, match histories, achievements, trophies, and more with friends via the God's Eye-like MOSAIC system.
RESCUE: Can the Villains get the item to their destination before the Heroes recover it and? Meanwhile, the Cops don't care who's a Hero of a Villain, their job is to stop both crews.
SEEK & DESTROY: The Villains have a simple job – protect their target by any means available. The Heroes must find and attack the target and bring its health down to zero any way they can. The Cops must try and stop both crews.
APB: One destination, two crews. Villains and Heroes must reach a given destination first…any way they can. The Cops must stop both crews from getting to the destination by bringing Villains and Heroes alike down.
Heroes: Get your crew of Heroes together and prevent the Villains from fulfilling their mission while avoiding getting arrested by the Cops. Sometimes, in order to win, you'll need to help out your rivals!
Villains: Assemble your Villain crew and try to fulfill your mission—all while the Heroes try to stop you and the Cops try and take you down. Keep an eye on your rivals and the Cops.
Cops: Cop gameplay revolves around the compliance and busting of members of both opposing factions. It's takedown time, but don't be surprise if Villains and Heroes get together to hinder your progress.
Read more
What are the system requirements?
MINIMUM
OS

Windows 10 x64

Processor

3.5 GHz Intel Core i5 3450 or 4.0 GHz AMD FX-8350

Memory

8 GB RAM

Graphics

GTX680 or equivalent

Storage

50 GB available space
RECOMMENDED
OS

Windows 10 x64

Processor

Intel i7 8700k or AMD Ryzen 7 2700x

Memory

16 GB RAM

Graphics

NVidia GTX 2080 or AMD Radeon VII

Storage

50 GB available space