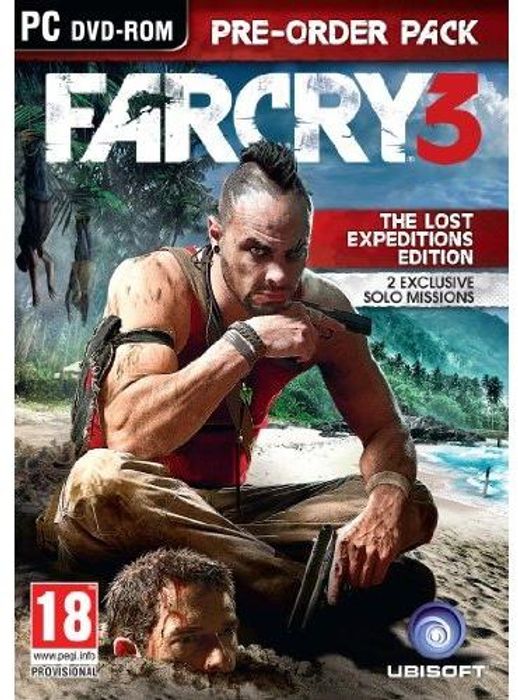 Far Cry 3 - The Lost Expeditions Edition (PC)
Platform:

uPlay

Region:

Worldwide
Notice: proceeding to PayPal, you understand that your Gift Card purchase will be sent to the email associated with your PayPal Account.
Description
The Lost Expeditions Edition
SINGLE PLAYER: 2 Suspenseful Action Missions - Forgotten Experiment and Ignition in the Deep
MISSION 1: FORGOTTEN EXPERIMENT: Trapped inside a forgotten research facility, Jason discovers that the only way out is through the crumbling WWII ruins. But if Jason hopes to escape, he'll have to activate the old experiments and unleash the electric storm that could kill him.
MISSION 2: IGNITION IN THE DEEP: Inside an abandoned WWII military silo, the only thing standing between Jason and freedom are pirates and a forgotten missile leaking a lake of fuel. One stray bullet and the entire complex could go up in flames, forcing Jason to rely on his wits and stealth to survive.
MULTIPLAYER: Type 10 Japanese Flare gun
Product Description
Beyond the reach of civilization lies a lawless island ruled by violence. This is where you find yourself stranded, caught in a bloody conflict between the island's psychotic warlords and indigenous rebels. Struggling to survive, your only hope of escape is through the muzzle of a gun.
Discover the island's dark secrets and take the fight to the enemy; improvise and use your environment to your advantage; and outwit its cast of ruthless, deranged inhabitants. Beware the beauty and mystery of this island of insanity… Where nothing is what is seems, you'll need more than luck to escape alive.
Key Features
THE ULTIMATE OPEN WORLD - Create your own FPS action and adventure. Customize your weapons, your skills and your approach to each mission, whether you favor intense run-and-gun action, stealthy close-up takedowns, or long range sniping.
AN ISLAND OF DANGER AND DISCOVERY - Explore a diverse island playground, from mountain ranges to swampy grasslands and white sandy beaches. Discover relics, hunt exotic animals, play mini-games, and travel fast by land, sea or air. Fight your way through the island's towns, temples, river ports and more.
UNCOVER A MEMORABLE STORY AND AN INSANE CAST OF CHARACTERS - Encounter an engaging and disturbed cast of characters as you take a gritty journey into the dark side of humanity, written by a Writer's Guild award-winner.
PLAY WITH FRIENDS IN A FULL CO-OP CAMPAIGN - Team up for a 4-player standalone story campaign that will challenge you to be your best and work together to prevail. Experience the island through the eyes of a wayward crew in their own quest to survive against the odds. Play online or split-screen.
A DIFFERENT BREED OF MULTIPLAYER - Far Cry 3's innovative multiplayer rewards skill and team play. To level-up, players must support each other by boosting with battle cries, reviving teammates, and calling-in team support weapons. After each match, choose to punish or show mercy for your foes in fun and twisted ways with interactive cut scenes.
USE THE MAP EDITOR TO CREATE AND ACCESS NEW CONTENT - The powerful and easy-to-use Far Cry map editor is back, with new and improved features. A community of mapmakers ensures a constant stream of new content, with the best showcased for the world to enjoy. Using map template tools, you can make amazing maps quickly and easily.