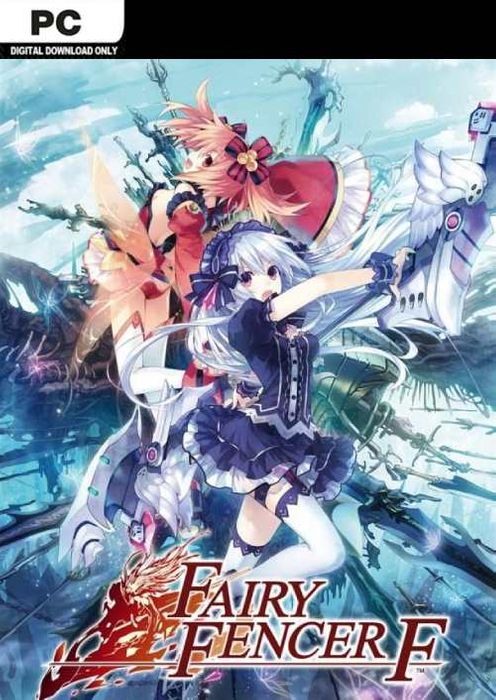 Fairy Fencer F PC
Platform:

Steam

Region:

Worldwide
Notice: proceeding to PayPal, you understand that your Gift Card purchase will be sent to the email associated with your PayPal Account.
Description
Get your instant download with SSEGold.com
This product includes Fairy Fencer F
The top 3 reasons to play Fairy Fencer F
More Flash & Flair! The world of Fencers and fairies gets updated with a 1080p graphic overhaul! Fairizing never looked so good.
Fairy's Fate Find fairies to join you in your quest – only they can grant you special abilities, and by leveling them up you'll also increase your effect radius in…
Increase the Tension gauge in battle by dealing and receiving damage.
About Fairy Fencer F
Long ago, the Vile God and the Goddess waged war with each other. Equally matched, they were sealed away in another world…Now a lazy young man named Fang somehow finds himself a key part of this war he'd really rather not deal with, but fate beckons in this uncommon RPG
Really Reluctant Hero With a hero more interested in his next meal and a fairy partner who will have none of it, this saving-the-world narrative is injected with oodles of madcap humor!
High Tension! Increase the Tension gauge in battle by dealing and receiving damage. The higher it is, the more damage you'll dish. Once it's high enough, you'll be able to Fairize – combining with your fairy to create a super-powerful form!
World-Shaping! Pull Furies from the Goddess and Vile God and place your fairies in them. You can then stab those Furies into the world map for new effects in nearby dungeons like EXP boosts or enemy changes - be careful though, because not all effects are good!
Text
Read more
What are the system requirements?
MINIMUM
OS

Windows XP

Processor

2.13GHz Intel Core2 Duo or equivalent

Memory

4 GB RAM

Graphics

DirectX 9.0c compatible graphics card with 512Mb RAM and support for v3 shaders

Storage

5 GB available space
RECOMMENDED
OS

Windows 7 or later

Processor

3GHz Intel i3 or equivalent

Memory

4 GB RAM

Graphics

DirectX 9.0c compatible graphics card with 1GB RAM and support for v3 shaders

Storage

5 GB available space