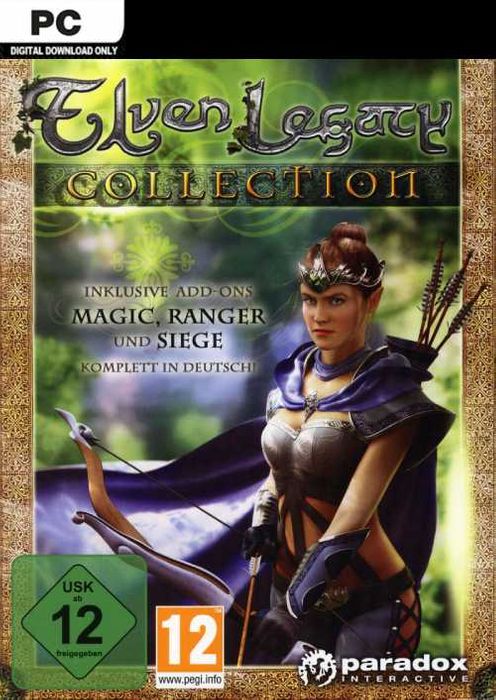 Elven Legacy Collection PC
Platform:

Steam

Region:

Worldwide
Notice: proceeding to PayPal, you understand that your Gift Card purchase will be sent to the email associated with your PayPal Account.
Description
Get your instant download with SSEGold.com
Elven Legacy Collection PC includes:
Base Game
Elven Legacy: Magic
Elven Legacy: Ranger
Elven Legacy: Siege
The top 3 reasons to play Elven Legacy Collection PC
Classic turn-based strategy gameplay.
Multiple endings which depend on your choices.
Powerful built-in game editor.
About Elven Legacy Collection PC
The shadows of destruction begin to loom on the horizon once a human mage uncovers a dark and powerful secret dating back to the remote past of the Elven race.
However, the Elves cannot allow this forbidden knowledge to fall into the hands of others and thus imperil the world. For the first time in countless years, this ancient race must venture forth and interfere with events transpiring in the lands of man. With the renegade mage in their sights, the sorceress Gilwen and ranger-lord Seagate set off together, unaware that beliefs and friendships alike will soon be tested...
Elven Legacy: Magic - The era of Elven Legacy is coming to an end. The relentless wave of demonic magical energy triggered by the death of the demon Farrakh has swept the world and has now reached the free city of Sylent. Powerless, the Masters of the Academy of Magic are being driven insane. The Holy Inquisition, inspired by the clerics of the kingdom of New Tixus, acts swiftly to intervene in the seemingly hopeless cause of preventing the world's slide into darkness and madness.
Elven Legacy: Ranger - The Order of Marcus, long dormant in its isolation, is expanding. The renowned ranger Cornelius, armed with his spear and trained in the arts of subterfuge, has been tasked with preparing the world of Illis for the coming of the order.
Elven Legacy: Siege - Several months have passed since the return of the Order of Marcus from exile to the continent and their founding of the kingdom of New Tixus in this, the second official Expansion to the epic Fantasy Strategy game Elven Legacy.
Read more
What are the system requirements?
MINIMUM
OS

Microsoft® Windows® XP / Vista

Processor

Intel® Pentium® IV 1.5 GHz or AMD® 2000+ (single core)

Memory

512 MB RAM

Graphics

NVIDIA® GeForce™ FX 5700 or ATI™ Radeon® 9600 and above Video Card

Storage

3 GB Available HDD Space
RECOMMENDED
OS

Microsoft® Windows® XP / Vista

Processor

Intel® Pentium® IV 2.4 GHz or AMD 3500+ (single core)

Memory

1 GB RAM

Graphics

NVIDIA® GeForce™ 6800 or ATI™ Radeon® X850XT

Storage

3 GB Available HDD Space