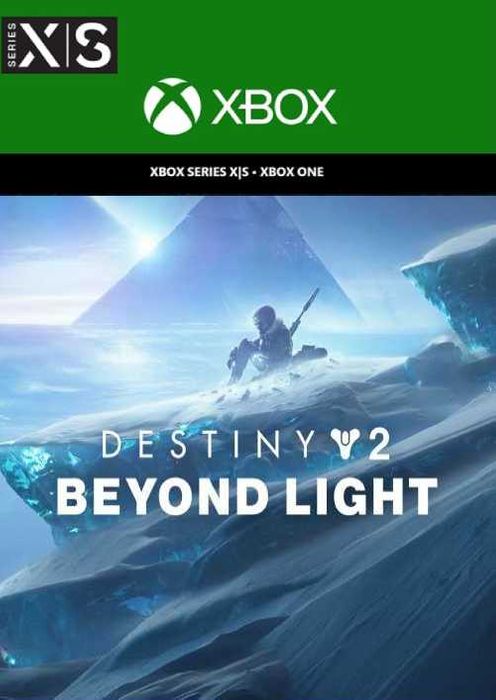 Destiny 2: Beyond Light Xbox One/Xbox Series X|S (US)
Platform:

Xbox Live

Region:

USA
Notice: proceeding to PayPal, you understand that your Gift Card purchase will be sent to the email associated with your PayPal Account.
Description
The Xbox Series X|S version of Destiny 2: Beyond Light to be available on 8th December.
Get your instant download with SSEGold.com
This product includes Destiny 2: Beyond Light Xbox One (US). (Base Game Required)
The top 3 reasons to play Destiny 2: Beyond Light Xbox One (US)
Embark on a new journey.
Wield the Darkness.
Grow your Arsenal.
About Destiny 2: Beyond Light Xbox One (US)
EMBARK ON A NEW JOURNEY - The frozen frontier of Europa holds many lost secrets from the past, including the chilling dark power of Stasis. You must work with the mysterious Exo Stranger to harness its power before your enemy, Eramis the Kell of Darkness, bestows it on her Fallen forces.
WIELD THE DARKNESS - Use the new elemental power of Stasis to dominate the battlefield. Each Guardian class uses Stasis in a different way: Warlock - Shadebinder: Summon a powerful Stasis staff and freeze enemies in ice. Hunter - Revenant: Channel Stasis shards to form a pair of Kama blades. Titan - Behemoth: Strike foes down with a mighty Stasis gauntlet.
GROW YOUR ARSENAL - Beneath the ice and ruins lie countless relics, an arsenal of weapons, and more. Claim this cutting-edge tech from the clutches of time and dare to tame the wasteland.
Read more
What are the system requirements?
OS

Xbox One / Xbox X

Subscription

Xbox Live Account (Online multiplayer requires Xbox Live Gold)

Other

Internet Access