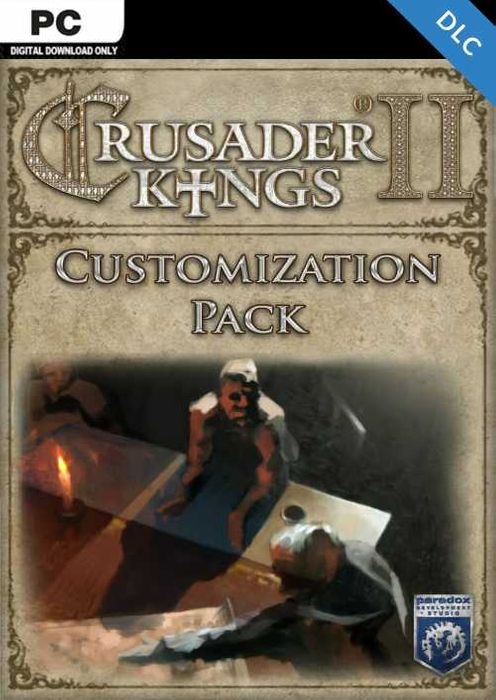 Crusader Kings II: Customization Pack PC - DLC
Platform:

Steam

Region:

Worldwide
Notice: proceeding to PayPal, you understand that your Gift Card purchase will be sent to the email associated with your PayPal Account.
Description
Get your instant download with SSEGold.com
This product includes Crusader Kings II: Customization Pack PC . Base game required.
The top 3 reasons to play Crusader Kings II: Customization Pack PC
Start a game at any point between 1066 and 1337 and play until 1453
Relive the Middle Ages with up to 32 other players in a competitive multiplayer mode
In-game barber shop: customize hair and beard.
About Crusader Kings II: Customization Pack PC
Do you think your character has an ugly beard? Trim it! (And get a haircut while you're at it...) Want to change the name of your kingdom to 'Awesomia'? Do it. Does your faithful vassal have a stupid dynasty name or shield? Customize them! The Customization Pack allows you to alter all of these things in-game. It has no effect on gameplay, but perhaps on your peace of mind.
The Dark Ages might be drawing to a close, but Europe is still in turmoil. Petty lords vie against beleaguered kings who struggle to assert control over their fragmented realms. The Pope calls for a Crusade to protect the Christians in the Holy Land even as he refuses to relinquish control over the investiture of bishops - and their riches. Now is the time for greatness. Expand your demesne and secure the future of your dynasty. Fill your coffers, appoint vassals, root out traitors and heretics, introduce laws and interact with hundreds of nobles, each with their own agenda
A good lord will always need friends to support him. But beware, as loyal vassals can quickly turn to bitter rivals, and some might not be as reliable as they seem... Stand ready, and increase your prestige until the world whispers your name in awe. Do you have what it takes to become a Crusader King?
Crusader Kings II explores one of the defining periods in world history in an experience crafted by the masters of Grand Strategy. Medieval Europe is brought to life in this epic game of knights, schemes, and thrones...
Read more
What are the system requirements?
WINDOWS
OS

Win7 64-bit

Processor

Intel® Pentium® IV 2.4 GHz or AMD 3500+

Memory

4 GB RAM

Graphics

NVIDIA® GeForce 8800 or ATI Radeon® X1900, 512mb graphics memory required.

Storage

2 GB
Mac OS X
OS

10.11 (El Capitan)

Processor

Intel Core Duo Processor (2GHz or better)

Memory

4 GB RAM

Graphics

2 GB

Storage

ATI Radeon HD 6750 / NVIDIA GeForce 320 / NVIDIA GeForce 9600 or higher, 1024MB graphics memory required
SteamOS + Linux
OS

Ubuntu 16.04 x64

Processor

IntelR PentiumR IV 2.4 GHz or AMD 3500+

Memory

4 GB

Graphics

ATI Radeon HD 6750 / NVIDIA GeForce 320 / NVIDIA GeForce> 9600 or higher, 1024MB graphics memory required.

Storage

2 GB