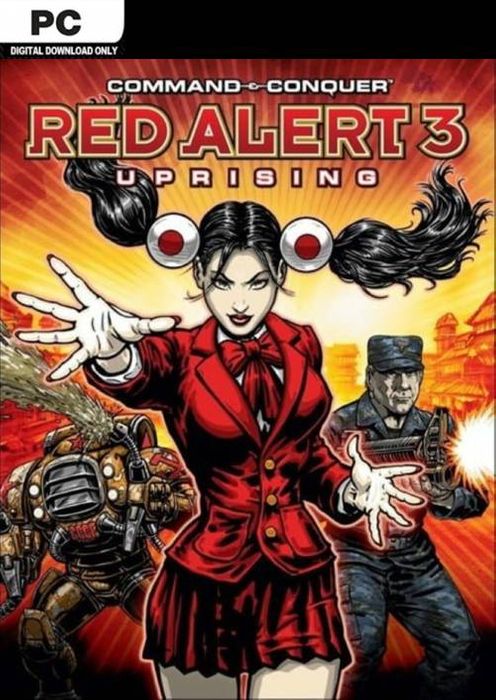 Command & Conquer Red Alert 3: Uprising PC
Platform:

Origin

Region:

Worldwide
Notice: proceeding to PayPal, you understand that your Gift Card purchase will be sent to the email associated with your PayPal Account.
Description
Get your instant download with SSEGold.com
This product includes Command & Conquer Red Alert 3: Uprising PC.
The top 3 reasons to play Command & Conquer Red Alert 3: Uprising PC
Battle your way through all-new campaigns featuring classic fast, furious, and fun C&C action. New stories and missions feature all three factions, plus experience a new twist with the first-ever C&C dungeon-crawler campaign
Conquer the world and crush your enemies with 11 new units from the Soviets, Allies, and Empire of the Rising Sun, such as the Cryo Legionaire, the Steel Ronin, and the Desolator!
Fight for world domination in the all-new Commander's Challenge mode! Do you have what it takes to withstand the brutal onslaught and relentless taunting of the world's toughest commanders?
About Command & Conquer Red Alert 3: Uprising PC
Picking up in the aftermath of the events in the original, Command & Conquer Red Alert 3 Uprising features an eclectic cast starring in the all new, live-action movie sequences the Command & Conquer franchise is known for. From sci- fi legends to rising starlets and masters of the squared-circle, the cast of Command & Conquer Red Alert 3: Uprising includes (in alphabetical order): Jamie Chung, (Dragonball Evolution), Ric Flair (16-time world heavyweight wrestling champion), Malcolm McDowell (Heroes, Clockwork Orange, Wing Commander), Jodi Lyn O'Keefe (Prison Break), Holly Valance (the UK's Neighbours) along with returning fan-favorites Gemma Atkinson and Ivana Milicevic.
Conquer four all-new campaigns as the Red Alert 3 saga continues! Command & Conquer Red Alert 3: Uprising gives you more of the single-player action that you've been hungry for - more stories, action, campaigns, units, and live-action movies with new Hollywood stars, in the latest from the over-the-top, bestselling, and most-beloved series of the Command & Conquer franchise.
What happened in the aftermath of Red Alert 3? Find out in FOUR all-new campaigns in Red Alert 3: Uprising. With the Allies triumphant at the end of Red Alert 3, the occupation of their former enemies' territories has begun. But how will the defeated Soviets react to this occupation and the presence of FutureTech, the mysterious company contracted by the Allies to develop new technologies in the Soviets' homeland? How will the humiliated Empire of the Rising Sun rise up and defend itself against the former Soviet commanders who have invaded their territory in a post-war land grab? How will the Allied occupational forces quash the uprising of the former Imperial commanders? And who is the mysterious Yuriko Omega? What events led her to become the telekinetic, psychic school girl?
Read more
What are the system requirements?
MINIMUM
Processor

any Intel Core Duo machine;

Memory

1 GB

Graphics

NVIDIA GeForce6800 or better, ATI Radeon X800 or better

Storage

at least 10 GB of free space