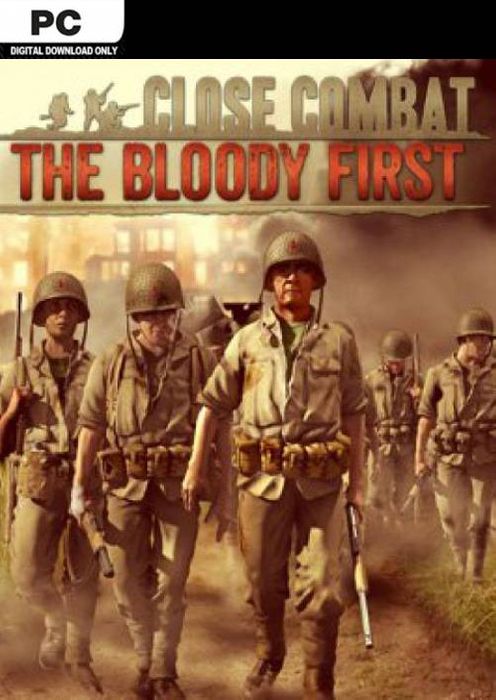 Close Combat: The Bloody First PC
Platform:

Steam

Region:

Worldwide
Notice: proceeding to PayPal, you understand that your Gift Card purchase will be sent to the email associated with your PayPal Account.
Description
Get your instant download with SSEGold.com
This product includes Close Combat: The Bloody First PC.
The top 3 reasons to play Close Combat: The Bloody First PC
You will command your squads in a variety of close combat situations and will have to learn how best to combine the use of small arms, mortars, machine guns, armoured cars, tanks and anti-tank guns in order to achieve victory.
You must learn the art of attack and defence in battles such as Hill 350 and Kasserine Pass in Tunisia, Gela and Troina in Sicily, and Caumont and Marigny in Normandy.
Engage with over 50 different vehicles, 300+ infantry and heavy weapon teams and over 100+ weapons and including for the first time US equipment from 1942-43.
About Close Combat: The Bloody First PC
Close Combat: The Bloody First is the latest release in the critically-acclaimed Close Combat series, and the first using the new 3D Archon engine.
With this Close Combat: The Bloody First combines classic Close Combat tactical gameplay with battles fought across a wide variety of diverse 3D landscapes including craggy ridgelines, narrow valleys and dense villages.
The switch to 3D also allows an increase in the level of detail (e.g. the specific types of ammunition used by each weapon are now modelled) with more realistic movement and projectile physics.
Following the career of the famed US 1stInfantry Division (forever known as 'The Big Red One') Close Combat: The Bloody First visits the battlefields of Tunisia and Sicily for the first time, as well as covering the Normandy campaign.
With 3 theatres to cover Close Combat: The Bloody First places the focus firmly on the tactical level putting you in command of a 1st Infantry Division company (sometimes reinforced … and sometimes not!), leading your men through a series of linked operations and battles from Longstop Hill in Tunisia to Mortain in Normandy.
You'll have to look after your men, work out the best combination of fire and movement, know when they need bolstering with armoured vehicles and decide when to call in support from artillery and aircraft.
As you fight your way into and then across Europe from November 1942 to August 1944 you must overcome a wide range of diverse tactical challenges, such as commanding inexperienced troops being attacked by veteran panzers in North Africa, having to capture the bitterly defended town of Troina in the Sicilian mountains and of course storming across the sands of Omaha and into the 'hedgerow hell' of Normandy
Read more
What are the system requirements?
MINIMUM
OS

Windows 7/8/10

Processor

2GHz processor

Memory

4 GB RAM

Graphics

1 GB DirectX 9 Compatible Graphics Card (2GB recommended)

Storage

4 GB available space