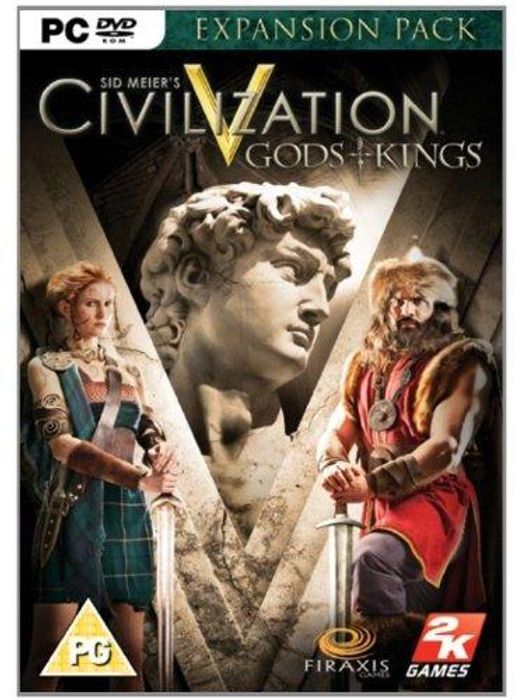 Civilization V 5 Gods and Kings (PC)
Platform:

Steam

Region:

Worldwide
Notice: proceeding to PayPal, you understand that your Gift Card purchase will be sent to the email associated with your PayPal Account.
Description
Sid Meier's Civilization V: Gods and Kings is the first official expansion pack for the Turn-Based Strategy game, Sid Meier's Civilization V.* It features the introduction of religion as a major gameplay component to the game, through a faith-based mechanism. It also adds additional diplomatic abilities to those found in the base game. Additional features include, a variety of benefit types for the establishment and adoption of religion, spies that both level with mission completion and that can be a liability if captured, several new playable civilizations, improved battle abilities, and new units, buildings and wonders.
Expanded Power with Religion and Enhanced Diplomacy
The Sid Meier's Civilization V: Gods and Kings expansion pack* introduces the power of religion and improved diplomatic abilities to Civilization V. Religion, used as a major tool, was left out of the 2010 base game release, but now joins culture, technology, diplomacy, and warfare as the fifth pillar of the game's turn-based statecraft and empire building game mechanic. Use of religion begins during a civilization's infantcy, with the player interweaving select core beliefs with particular realities of their civilization. This in turn unifies people and generates faith, setting the stage for the emergence of unit's like The Great Prophet, Missionaries and The Inquisitor, along with the founding of a religion. Religions available initially correlate to actual world religions such as Buddhism, Christianity, Confucianism, Hinduism, Islam, Shinto, etc., but they are designed to be renamed and customized with player chosen tenets. Civilizations that found religions enjoy certain exclusive benefits, while a later series of benefits connected to a religion can be enjoyed by any civilization that is converted to it. This includes rival civilizations. As the timeline of the game progresses to the renaissance and beyond, religion becomes less important, but remains a surprisingly powerful tool.