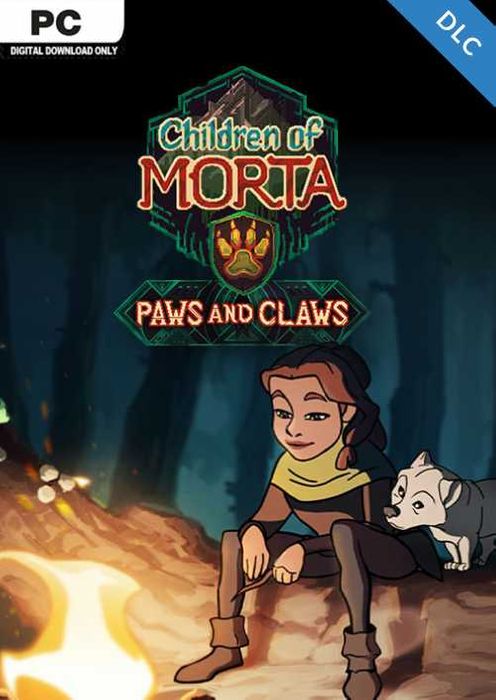 Children of Morta: Paws and Claws PC - DLC
Platform:

Steam

Region:

Worldwide
Notice: proceeding to PayPal, you understand that your Gift Card purchase will be sent to the email associated with your PayPal Account.
Description
Get your instant download with SSEGold.com
This product includes Children of Morta: Paws and Claws. Base game required.
The top 3 reasons to play Children of Morta: Paws and Claws
More than 100 new animations, big and small, showing you the life of your new animal friends!
New mechanic: use treats to feed animals and look after them.
Animal Shelter System - which adds a whole new section of the house!
About Children of Morta: Paws and Claws
Children of Morta is a story-driven action RPG game about an extraordinary family of heroes. Lead the Bergsons, with all their flaws and virtues, against the forthcoming Corruption. Will you be able to sacrifice everything to save the ones you care for?
Embark on the adventure of an extraordinary family of heroes. With the Corruption spreading through the land, guardians of the Mountain Morta have to stand up against the ancient evil. But... it's not a story about saving the universe. It's a story about a valiant family standing together while the world around them is being devoured by darkness.
Children of Morta sets its story in a distant land but copes with themes closer to our daily lives that one would expect. It is a story of simple emotions we all know so well and value more than sometimes we dare to admit: love and hope, longing and uncertainty, ultimately loss and sacrifice we are willing to make to save the ones we care the most for.
LOCAL CO-OP is already available in the game, so two players can become the Bergsons and fight the Corruption together. ONLINE CO-OP is still in development and will be released in a future update.
Hunters of the night, creatures of the day. They howl, growl, hiss and grumble - but more than anything, they feel and think in a similar way that we all do. And their lives are as precious as ours. This DLC adds new features to the game - like the Animal Shelter System, new boosts, animations and events - but it actually does far more than that. It directly helps the animals in need - not those virtual, but the real ones. 100% of 11 bit studios and Dead Mage proceeds from Paws and Claws DLC go to the Humane Society International charity, whose main mission is to help animals all over the world.
Read more
What are the system requirements?
MINIMUM
OS

64-bit Windows 10

Processor

3.2 GHz Quad Core Processor

Memory

8 GB RAM

Graphics

GeForce 960, Radeon RX 570 or equivalent with 4GB of video RAM

Storage

2 GB available space
Mac OS X
OS

10.11

Processor

2.8 GHZ Intel Core 2 Duo

Memory

4 GB RAM

Graphics

Dedicated video card recommended

Storage

2 GB available space
SteamOS + Linux
OS

Ubuntu 16.04

Processor

2.8 GHz Dual Core CPU

Memory

4 GB RAM

Graphics

GeForce GTX 660, Radeon R7 370 or equivalent with 2 GB of video RAM

Storage

2 GB available space