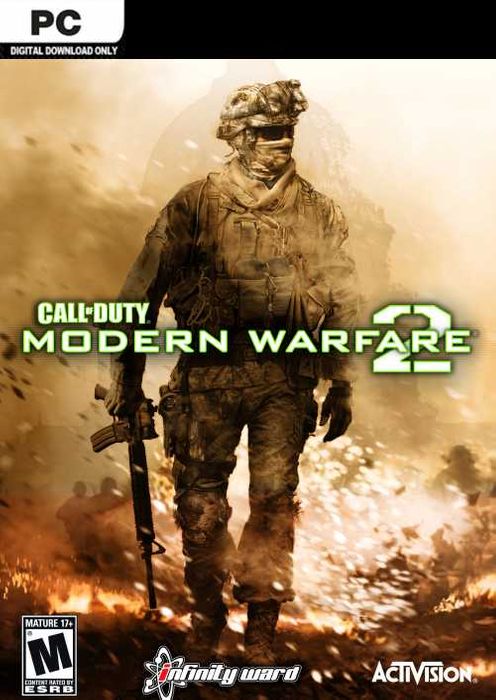 Call Of Duty: Modern Warfare 2 PC (Germany)
Platform:

Steam

Region:

Germany
Notice: proceeding to PayPal, you understand that your Gift Card purchase will be sent to the email associated with your PayPal Account.
Description
Get your instant download with SSEGold.com
This product includes Call Of Duty: Modern Warfare 2
The top 3 reasons to play Call Of Duty: Modern Warfare 2
Special Ops pits players into a gauntlet of time-trial and objective-based missions.
Rank-up as players unlock new Special Ops missions, each more difficult.
Missions include highlights from the single player campaign, fan favorites from Call of Duty 4: Modern Warfare and all new, exclusive missions.
About Call Of Duty: Modern Warfare 2
The most-anticipated game of the year and the sequel to the best-selling first-person action game of all time, Modern Warfare 2 continues the gripping and heart-racing action as players face off against a new threat dedicated to bringing the world to the brink of collapse.
Setting a new bar for online multiplayer, Modern Warfare 2 multiplayer delivers new capabilities, customization, gamestates and modes, including: Create-a-Class Evolved
Secondary Weapons - Machine Pistols, Shotguns, Handguns, Launchers
Riot Shields
Equipment - Throwing Knives, Blast Shield, Tactical Insertion
Perk Upgrades
Bling (Dual Attachments)
Customizable Killstreaks - AC130, Sentry Gun, Predator Missile, Counter-UAV, Care Package
Accolades (Post match reports)
Read more
What are the system requirements?
WINDOWS
OS

Microsoft Windows XP or Windows Vista (Windows 95/98/ME/2000 are unsupported)

Processor

ntel Pentium 4 3.2 GHz or AMD Athlon 64 3200+ processor or better supported

Memory

1 GB RAM

Graphics

256 MB NVIDIA GeForce 6600GT or better or ATI Radeon 1600XT or better

Storage

12GB of free hard drive space
Mac OS X
OS

10.12 (Sierra)

Processor

Intel i3 (Dual-Core)

Memory

4 GB RAM

Graphics

Radeon HD 4850/Geforce 640M

Storage

512 MB