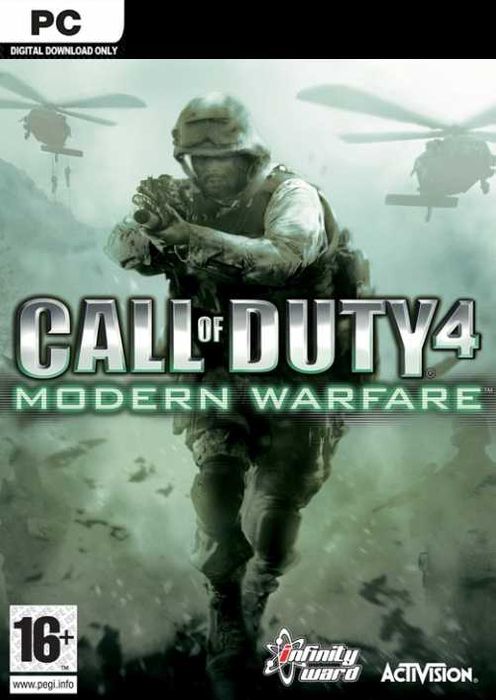 Call of Duty 4 (COD): Modern Warfare PC
Platform:

Steam

Region:

Worldwide
Notice: proceeding to PayPal, you understand that your Gift Card purchase will be sent to the email associated with your PayPal Account.
Description
Get your instant download with SSEGold.com
This product includes Call of Duty 4: Modern Warfare.
The top 3 reasons to play Call of Duty 4: Modern Warfare
Experience an intense, cinematic first-person shooter game unlike anything else.
Master an arsenal of powerful modern day firepower, weapons and transports.
Engage in fast-paced, adrenaline-rushing action combat in multiplayer and online modes.
About Call of Duty 4: Modern Warfare
Featuring an available arsenal of more than 70 new and authentic weapons and gear from assault rifles with laser sites, claymore mines, .50 caliber sniper rifles, and M-249 SAW machine guns. With accessories like night-vision goggles and ghillie suits, for maximum concealment, Call of Duty 4: Modern Warfare has players locked and loaded to accomplish the mission.
Delivering the most visceral action thriller ever, the title covers modern battle from the soldier to the satellite, where the need for air support is critical to success. The adrenaline rush deployment enlists gamers to fast-rope from tactical helicopters, ride in an armada of attack choppers, utilize jets to remove enemy strongholds and even engage hostiles from thousands of feet above the ground inside a state of the art aerial gunship.
Featuring stunning next-generation graphics, players will be drawn into the cinematic intensity of Call of Duty 4: Modern Warfare. Amazing special effects, including realistic depth of field, rim-lighting, character self-shadowing, texture streaming as well as physics-enabled effects will enlist players into the most photo-realistic game experience. Combine the lifelike graphics and the realistic battle chatter with the Call of Duty award-winning sound design and players will face battle as they have never before.
Multiplayer builds from the success of Call of Duty 2 delivering a persistent online experience for greater community interaction. Featuring create-a-class options allowing players to customize gear that is best suited for play, to experience points enabling unlockables and perks, all the way to matchmaking and leaderboards for the latest in tracking, Call of Duty 4: Modern Warfare's multiplayer is set to deliver easily accessible and addictive online play for all.
Read more
What are the system requirements?
MINIMUM
OS

Microsoft® Windows® XP/Vista

Processor

Intel® Pentium® 4 2.4 Ghz / AMD(R) 64 (TM) 2800+

Memory

512 MB RAM

Graphics

NVIDIA Geforce 6600 or better or ATI Radeon® 9800Pro or better

Storage

8 GB

DirectX

Version 9.0c

Network

Broadband internet connection

Sound

100% DirectX 9.0c compatible sound card
RECOMMENDED
OS

Microsoft® Windows® XP/Vista

Processor

Intel® and AMD® 1.8 Ghz Dual Core Processor or better supported

Memory

768 MB RAM

Graphics

NVIDIA Geforce 6600 or better or ATI Radeon® 9800Pro or better

Storage

8 GB

DirectX

Version 9.0c

Network

Broadband internet connection

Sound

100% DirectX 9.0c compatible sound card