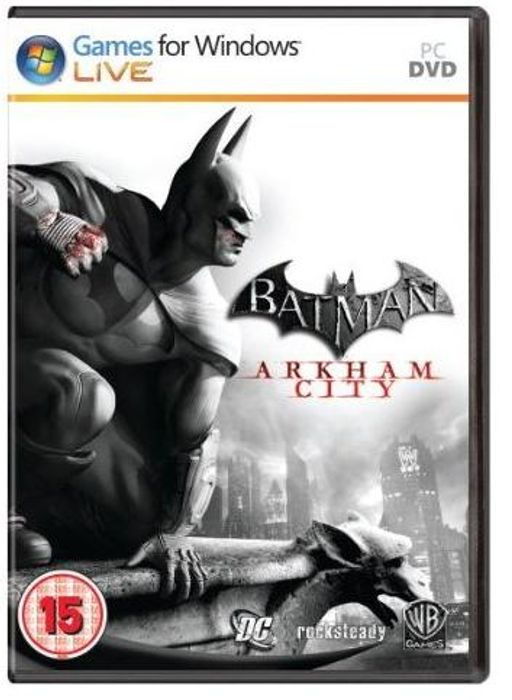 Batman: Arkham City (PC)
Platform:

Steam

Region:

Worldwide
Notice: proceeding to PayPal, you understand that your Gift Card purchase will be sent to the email associated with your PayPal Account.
Description
Get your instant download with SSEGold.com
This product includes Batman: Arkham City.
The top 3 reasons to play Batman: Arkham City
Build upon the events of Batman: Arkham Asylum and explore Gotham City as the Dark Knight himself.
Fight against the most dangerous criminals of Gotham City including The Joker, Catwoman, The Riddler and more.
Experience what life is like as the Dark Knight and bring justice to the streets of Gotham City.
About Batman: Arkham City
Set inside the heavily fortified walls of a sprawling district in the heart of Gotham City, this highly anticipated sequel introduces a brand-new story that draws together a new all-star cast of classic characters and murderous villains from the Batman universe, as well as a vast range of new and enhanced gameplay features to deliver the ultimate experience as the Dark Knight.
Batman Arkham City is the follow-up to the award-winning hit video game Batman Arkham Asylum and delivers an authentic and gritty Batman experience.
Batman: Arkham City delivers a genuinely authentic Batman experience with advanced, compelling gameplay on every level: high-impact street brawls, nail-biting stealth, multifaceted forensic investigation, epic super-villain encounters and unexpected glimpses into Batman's tortured psychology.
Batman faces highly coordinated, simultaneous attacks from every direction as Arkham's gangs bring heavy weapons and all-new AI to the fight, but Batman steps it up with twice the number of combat animations and double the range of attacks, counters and takedowns.
Batman has access to new gadgets such as the Cryptographic Sequencer V2 and Smoke Pellets, as well as new functionality for existing gadgets that expand the range of Batman's abilities without adding extra weight to his Utility Belt.
Read more
What are the system requirements?
MINIMUM
OS

Windows XP, Vista, 7

Processor

Intel Core 2 Duo 2.4 GHz or AMD Athlon X2 4800+

Memory

2 GB RAM

Graphics

ATI 3850HD 512 MB or NVIDIA GeForce 8800 GT 512MB

DirectX

Version 9.0c

Storage

17 GB