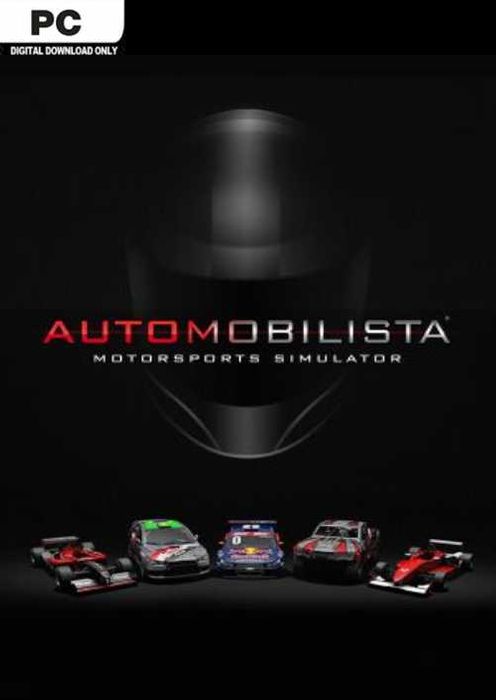 Automobilista PC
Platform:

Steam

Region:

Worldwide
Notice: proceeding to PayPal, you understand that your Gift Card purchase will be sent to the email associated with your PayPal Account.
Description
Get your instant download with SSEGold.com
This product includes Automobilista PC.
The top 3 reasons to play Automobilista PC
Upscaled 720 Hz physics and 500 Hz input rates grants AMS super-accurate, high fidelity physics and Force Feedback
Capture the ever-changing demands of racing.
Dynamic tire damage & dirt pickup add further extra dimensions to the driving experience.
About Automobilista PC
AUTOMOBILISTA puts you in the driving seat of one of the most advanced racing simulators and delivers a uniquely diverse motorsports experience!
As the natural successor to Reiza Studios´ previous title - the highly regarded Stock Car Extreme, originally released in 2013 - AUTOMOBILISTA continues to simulate the premium Brazilian racing series such as Stock Car V8, Copa Petrobras de Marcas, Formula 3 Brasil and Mitsubishi Lancer Cup, now packing every car and every track from their respective 2015 championships.
Beyond the brazilian core, AUTOMOBILISTA is extensively complemented with one of the most diverse selections or racing vehicles you will find in a racing game: only in AUTOMOBILISTA will you be able to jump from a rental kart to a 800-HP single-seater; from drifting a Rallycross EvoX to jumping ramps in a Supertruck; from mastering the driving basics in a Formula Vee to managing a full 24h race in an endurance prototype; back and forth through historical and modern content featuring a sample from several decades of racing history - all of this and much more within a few mouse clicks. Thoroughly researched and cohesively developed for maximum simulation accuracy, AUTOMOBILISTA captures the fun only motorsports in its various forms can provide.
In addition to the content already present in Stock Car Extreme - all of which comprehensively upgraded - AUTOMOBILISTA turns it up to a new level by adding all the new cars & tracks proposed in the SimRacing Bonanza crowdfunding campaign, new simulation features such as dynamic track conditions, advanced transmission and tire modelling, substantial upgrades to physics, graphics & audio, new game modes and much more!
Upscaled 720 Hz physics and 500 Hz input rates grants AMS super-accurate, high fidelity physics and Force Feedback.
Vehicle physics based on models developed for professional racing teams with in-depth exclusive data.
Minutely detailed and accurately modelled race tracks with 3D bumps with distinct surface properties.
Engine sounds sampled from high-quality recordings of real cars.
Capturing the ever-changing demands of racing.
Cars with old-style gearbox mechanisms will demand proper gear engagement by using the clutch or synchronizing revs.
Modern cars will demand handling of advanced electronic systems.
High downforce cars will create an aerodynamic wake for those that follow.
24h cycles will allow racing from dusk to dawn and at night.
Dynamic track conditions turn the racing line into a grippy rubbery trail and builds up marbles offline.
Read more
What are the system requirements?
MINIMUM
OS

Windows XP / Vista / 7 / 8 / 10

Processor

1,8 GHz or 100% compatible CPU

Memory

4 GB RAM

Graphics

DX9 Compatible with minumum 1GB Video Memory

Storage

25 GB available space
RECOMMENDED
OS

Windows XP / Vista / 7 / 8 / 10

Processor

3,4 GHz or 100% compatible CPU

Memory

8 GB RAM

Graphics

DX9 Compatible with minumum 2 GB Video Memory

Storage

25 GB available space