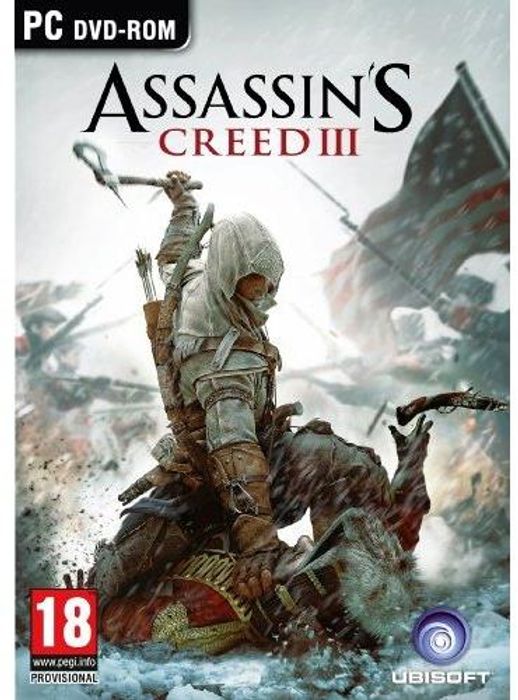 Assassin's Creed 3 (PC)
Platform:

uPlay

Region:

Worldwide
Notice: proceeding to PayPal, you understand that your Gift Card purchase will be sent to the email associated with your PayPal Account.
Description
Ignite the revolution

From Revelations to Revolution

Building on the rich storyline established in previous games in the series, this new entry into the Assassin's Creed saga is the most expansive and ambitious offering yet, bringing tantalising new revelations on the ongoing war between the Assassins Brotherhood and the Knights Templar.
Set in 18th century Colonial America during the time of the Revolutionary War, Assassin's Creed 3 introduces gamers to a new protagonist in the form of Connor Kenway, a half-English, half-Native American man, who becomes unwittingly drawn into the conflict after his home is attacked by colonists.

Featuring a variety of significant historical figures from the period, such as George Washington, Benjamin Franklin, Thomas Jefferson, General Lafayette and King George III, as well as brilliantly realised recreations of 18th century cities including Boston and New York, Assassin's Creed 3 continues the series' tradition of bringing history vividly to life in a fresh and exciting new way, with scenarios rarely seen in the world of videogames.

And the action won't just be confined to the cities. Players will also have the opportunity to explore the vast untamed frontier, engaging in pursuits never-before-seen in the Assassin's Creed franchise, like hunting a variety of wild animals. You'll even be able to skin the animals and trade their pelts as part of the enhanced in-game economy. There will be a variety of new weapons to play with too, including bayonets, bows, tomahawks and rope darts.

In addition to the 18th century action, Assassin's Creed 3 will also focus more heavily on present day events in the life of series mainstay Desmond Miles as the ever-deepening Templar conspiracy finally reaches its shocking conclusion.