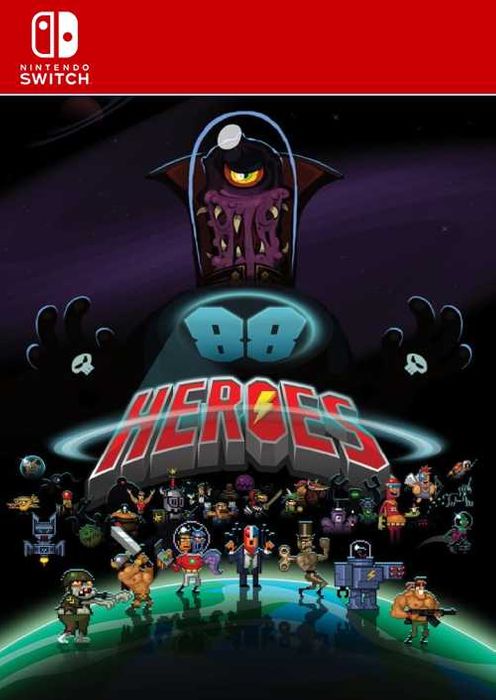 88 Heroes Switch (EU)
Platform:

Nintendo

Region:

Worldwide
Notice: proceeding to PayPal, you understand that your Gift Card purchase will be sent to the email associated with your PayPal Account.
Description
Get your instant download with SSEGold.com
This product includes 88 Heroes Switch.
The top 3 reasons to play 88 Heroes Switch
88 different heroes! Discover their unique powers and use them to conquer each stage - if they die though, they're lost forever (well, sort of)!
88 different levels! Explore Dr. H8's lair across four worlds, avoiding all manner of deadly obstacles and evil hero-crushing enemies
88 seconds per level! The clock's already ticking; can you make it to Dr. H8's penthouse in his orbiting space station before the 88-minute Doomsday timer runs out?!
About 88 Heroes Switch
It's 8:08am on 8th August 1988, and the evil Dr. H8 has brought the world to the brink of total annihilation! His demands are simple: pay $88 octillion within 88 minutes, or Dr. H8's 88 thermo-nuclear warheads will wipe out the Earth! But who will save us in our time of need? The bravest? The boldest? No... the 88 Heroes!
Prepare to infiltrate Dr. H8's lair with the help of the strangest, dumbest and most pointless superheroes ever! With 88 levels between you and Dr. H8, only 88 seconds to complete each level and the 88-minute Doomsday clock already ticking, lead 88 unique characters – each with their own special abilities – on a platform-hopping, enemy-smashing, danger-dodging mission to save Earth from complete destruction!
Endless replay value! Heroes change order every time you play to keep things interesting, and you can try to save the day with your favourite eight heroes or even just one. Good luck!
Read more
What are the system requirements?
OS

Nintendo Switch

Subscription

Nintendo Switch Online membership required to play online

Other

Internet Access